Established in March,2000.
Investment over $600 million.
Daily production capacity over 400,000 mtr fabrics & 100,000 finished product.
Yearly Turnover 180 Million USD.
Vertically integrated-Spinning to final product.
8000+ Employees.
Exporting mainly in Europe.
11th consecutive highest exporter in Bangladesh.
Weaving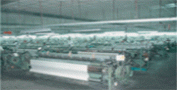 Zaber & Zubair Fabrics has 1200 shuttle-less SULZER Wider width loom producing 150,000 meters of fabric in a day. This is one of the strength of the company and biggest among the similar trade4 through out the country. 200 Air Jet looms are expected to be in operation by October 2005 that will add another 80,000 meters of fabric which make the capacity 230,000 meters per day. With this strong backup of weaving unit, Zaber is capable to produce lower till higher count plain & sateen weave fabric using single and double pick insertion, twill, half panama, voile & different types of dobby patterns.
End of 2005 expected a total capacity of 2,45,000 meters of fabric per day out of 1600 shuttle less & 120 air jet looms
Expansion Plan
400 Shuttle less SULZER looms
120 Air Jet Looms
95,000 meters fabric