Established in March,2000.
Investment over $600 million.
Daily production capacity over 400,000 mtr fabrics & 100,000 finished product.
Yearly Turnover 180 Million USD.
Vertically integrated-Spinning to final product.
8000+ Employees.
Exporting mainly in Europe.
11th consecutive highest exporter in Bangladesh.
Spinning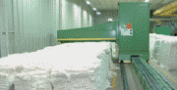 One of the strong spinning bases in the country equipped with brand new state of art machineries strongly back up the entire process. Well-organized spinning units have a capacity for constantly checking quality standard and a distinctive product variety. The group has five spinning mills that contains 200,000 spindles and produing 110 tons of yarn everyday.
Spinning Mills
Ismail Spinning Mills Ltd. Spinning unit with 45,000 spindles
Yasmin Spinning Mills Ltd. Spinning unit with 46,000 spindles
Sufia Cotton Mills Ltd. Spinning unit with 51,000 spindles
Talha Spinning Mills Ltd. Spinning unit with 64,000 spindles
Expansion Plan
1 Spinning Unit
80,000 Spindles
75 Tons